This past weekend Miss L and I made a little sidetrip to the Poe House in downtown Baltimore, Md. Baltimore is mostly associated with Poe in relation to his death and all the various theories surrounding it. But Poe actually lived in Charm City for a time; itwas his home at the time he first started writing short stories. His very first published story, "Berenice", was written in the tiny bedroom on the top floor.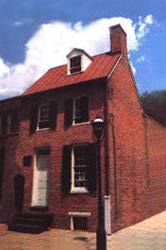 pic 1-Poe House, image courtesy of the Poe Society

The first thing I'll mention is that the house (pic 1) is not in the best part of Baltimore. Just to the left of the house sits a set of one level apartments. And while the families hanging out on the porch were very nice to us, their homes were in great disrepair. A number of other buildings on the block were completely boarded up. As you approach the door to the house, the first thing you see is a sign on the doorway. The sign warns you about the area, warns you to not give out any money to panhandlers, and to knock to gain entrance. I personally didn't feel uncomfortable or threatened, but some people might.
The inside is just what you might think. An old house with creaky wood floors. The entry room is run both as an entrance lobby and gift shop, which mostly holds pamphlets of critical and historical essays printed by the Poe Society. The nice lady in the black t-shirt who let us in told us the house rules, collected our $4 and sent us on our merry ways.
You go up one level and find one of the key features of the museum: a video display, which is really a collection of interviews of curator Jeff Jerome conducted by various local news teams. Most of the interviews seem like they were done near Poe's birthday and talked extensively about the unknown figure who leaves licquor and roses on Poe's grave every year. Although they do give a good bit of background on the house, they look like they were taped right off the t.v. and like they've been played hundreds of times. If there are any budding filmmakers in the area it's a venue that could really use some talented and kind soul to volunteer some hours with a camera and a studio to give them a real professional video.
Up one more level, and you arrive in a small room ringed with Gustave Dore's illustrations of Poe's "The Raven". There are also a few display cases holding an assortment of items, everything from the medalion off of his 2nd grave marker (pic 2) to a newspaper ad Poe placed to solicit submissions for a literary project he was editing (pic 3). Probably the crown jewel of the collection is the writing lap-desk donated to the museum by UVA (pic 4).

Pic 2-Poe's 2nd Marker


Pic 3-Poe Advertisement for Penn Journal


Pic 4-Poe's Lap Desk

To get to Poe's bedroom you climb up a set of narrow, high stairs to the top floor. You can't actually go into the bedroom itself (it's roped off) but you can look in enough to get an idea of his living circumstances at the time (pic 5). The conditions were, in a word, spartan.

Pic 5-Poe's Room

After leaving the house we made the short drive to Westminster Church (pic 6), now Westminster Hall, which is the home for Poe's decomposing body. When Poe was first buried in 1849, he was placed in an unmarked grave. By 1860 he was given proper recognition with a full tombstone labelled with the epitaph "Hic Tandem Felicis Conduntur Reliquae", which translates roughly as "Here, at last, he is happy". The stones were damaged several years later by vibrations from a nearby train rail. A few years later school children in Baltimore collected money under a program called "Pennies for Poe" to give a new marker (the same one kept at the house museum and shown in pic 2 above). He was later exhumed and reburied under a larger monument, between the graves of his wife Virginia and his mother-in-law Maria Glemm.

Pic 6-Westminster Church

Both Miss L and I have an affinity for graveyards. Miss L for her sense of history and me because of my morbid curiousity. The grounds are small, but still nicely kept (pic 7). Much better kept up than the Poe House itself. One thing that surprised me is that Poe rests not far from the gravesite of his own grandfather, David Poe (pic 8).

Pic 7-Graveyard at Westminster Church


Pic 8-David Poe's Grave


Pic 9-Poe's Original Grave


Pic 10-Poe's Current Grave

It seems a museum trapped within a very narrow definition and an even narrower budget; perhaps with a little vision and some funding it could envigorate itself with outreach programs and fun events. I know these aren't easy things, though. I am, admittedly, somewhat of a Poe fan. I'm no expert but I return to his poems, essays and short stories at least once a year so I enjoyed treading the steps he did. The two stops aren't the best tourist sites in Baltimore but probably worth the $4 admission if you like Poe. If you're really a fanatic about the gloomy bard I'd actually suggest heading down to Richmond and checking out the Poe House there. They have a better tour and a much broader range of artifacts.
Excelsior.